Detailed information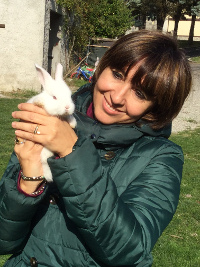 Annamaria Pisapia Italy
Annamaria Pisapia is a passionate and experienced animal advocate, with a multiyear experience in developing and leading animal welfare campaigns and inspiring people to join the movement. She is very knowledgeable in animal welfare and in the environmental impacts of factory farming. Annamaria is also a skilled networker and lobbyist, as well as a versatile public speaker in 5 EU languages.
Annamaria has been Director of the Italian office of Compassion in World Farming for 5 years and in the last year has also started setting the foundations for the establishment of Compassion in World Farming in Spain.
Previously, always at Compassion, she had worked several years in the Food Business Department, as European Food Business Manager, establishing relationships with major food companies and convincing them to adopt better welfare policies.
Annamaria started her career path in 2003 with the Italian animal rights organisation LAV, as Regional Coordinator.
She holds a Masters degree from the University Bologna and at the end of the 90s spent 5 years studying and working in Germany.
Contributions to the conference