Detailed information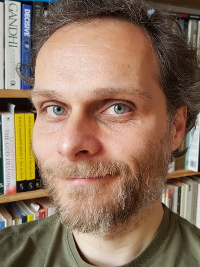 Franz Gratzer Austria
Franz Gratzer is a graphic designer who is active in Vienna. He is committed to VGT, the most effective animal welfare / animal rights group in Austria. Beside his work on behalf of animals, he is also involved in the local free software movement.
In 2008 he started to work with free software exclusively and – of course – doing professional graphic design with free tools also. This way he gained experience with many programs and got accustomed with security concerns typical for many activists.
After the big animal welfare court case in Austria and after Edward Snowden's exposures many activists finally realised that security isn't an abstract concept for computer nerds but that it is a real life issue especially important for people who are activists.
Maybe Gratzer's dedication to usability is one of the reasons he has become a go-to-person for computer related questions. Beside assisting activists with free software technical support he has been giving talks and workshops on computer security and graphic design with free programs in recent years.
Contributions to the conference