Detailed information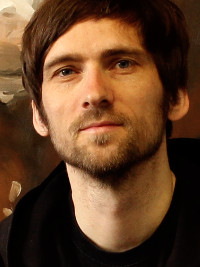 Hartmut Kiewert Germany
Hartmut Kiewert was born 1980 in Koblenz (Germany), studied painting at Burg Giebichenstein – University of Art and Design Halle, was a scholar of the German National Academic Foundation and graduated with honors in 2010. Since 2008 he has been concentrating on dealing with human-animan relationships, living and painting vegan. In this subject ha has found a pictorial topic that not only has been on his mind since his childhood but also lends itself to be rehandled and discussed in paintings. On the one hand the social status of animals has been playing a role in visual arts since early cave paintings, on the other hand art can be an excellent means to challenge norms and current conditions and to show new perspectives on the world.
Recently his paintings were on display in numerous solo and group exhibitions, for example in Hamburg, Berlin, Leipzig, Dortmund and Essen.
Since 2014 his studio is located on the premises of the old cotton spinning mill in Leipzig (Germany). Apart from his work as an artist he is part of various emancipatory social movements, especially of course the animal rights movement.
Contributions to the conference